Large Scale Paintings and Details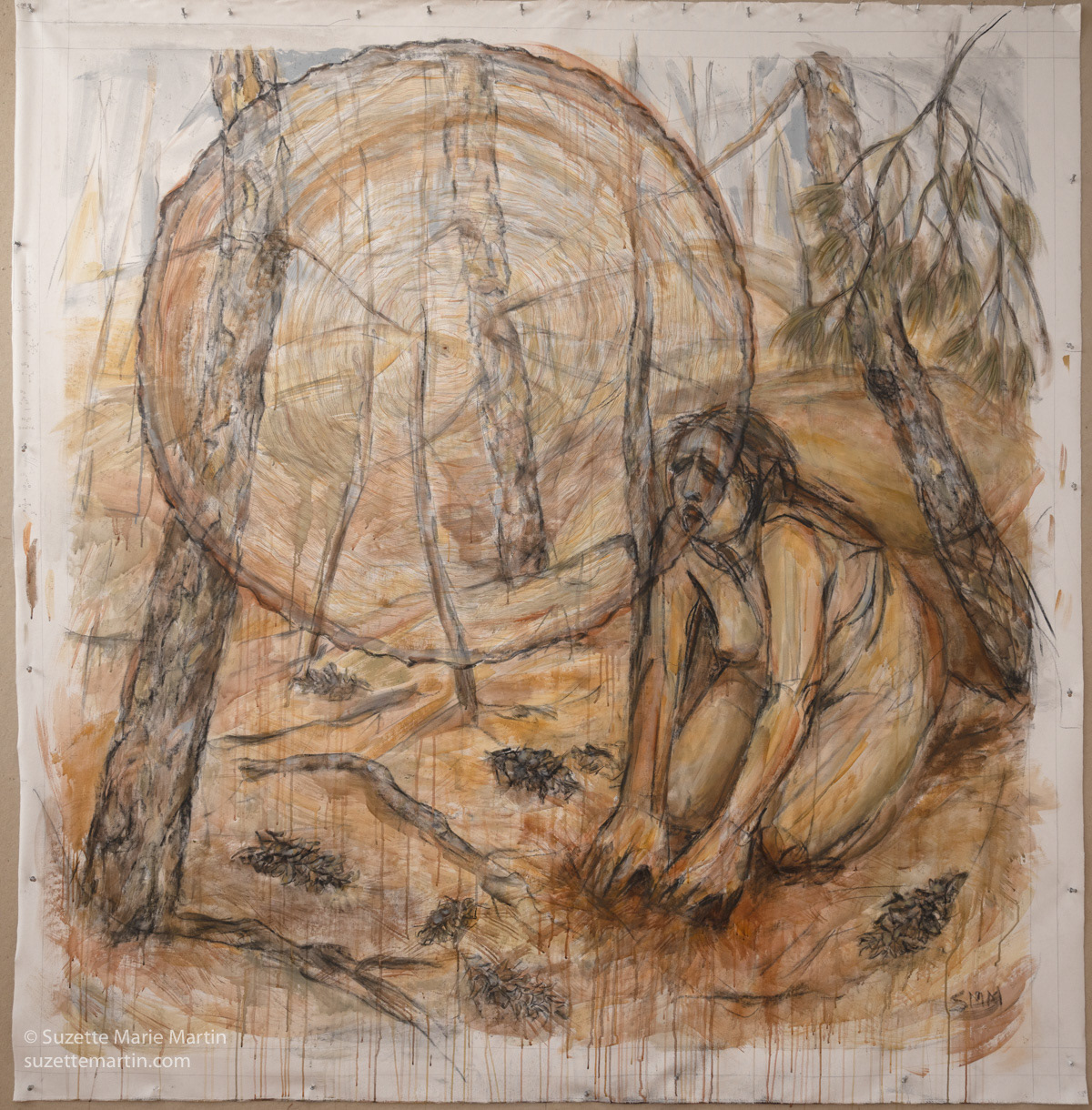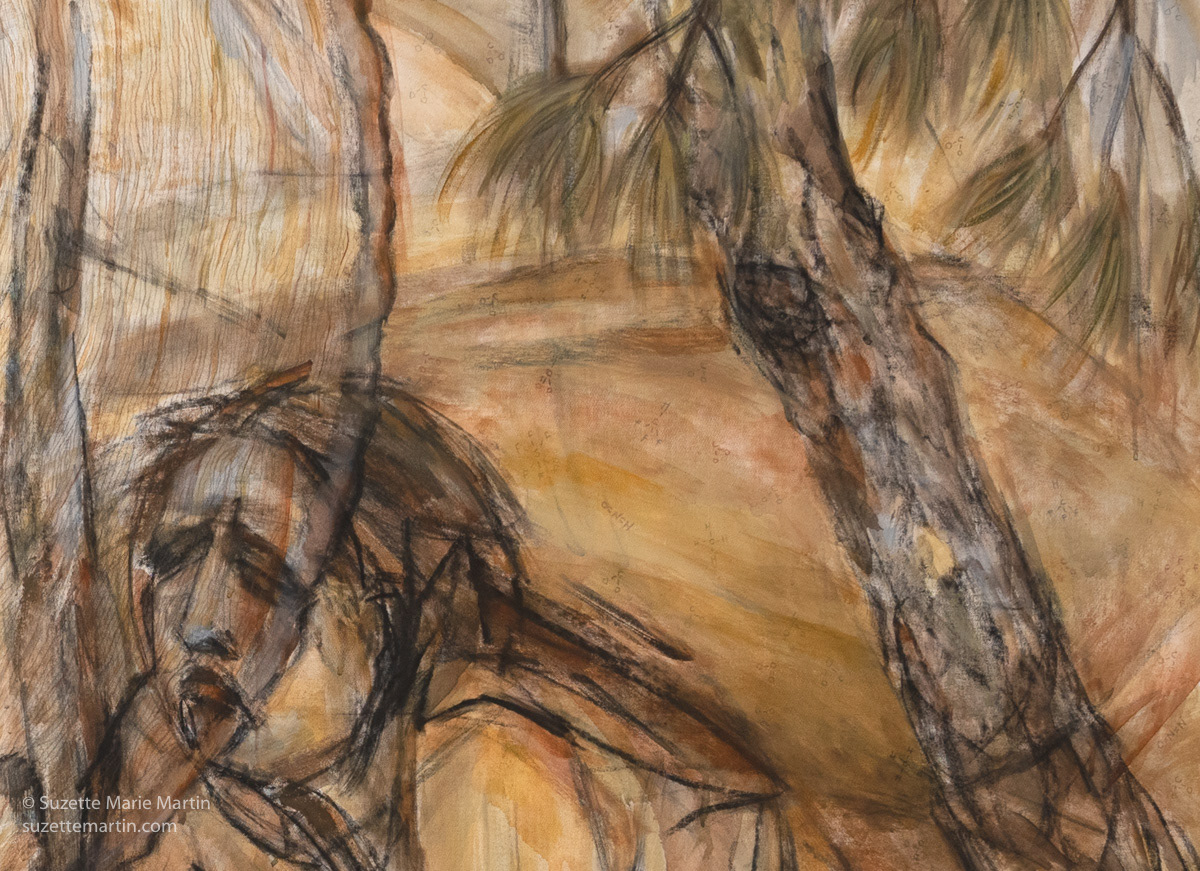 Dryad of the King's Pines

is based on an American history of natural resource extraction for political and economic dominance. This painting of colonialism and ecological collapse features a full-scale section of a 400 year old pine, greenhouse gasses, and a mythical dryad mourning old growth forests decimated by logging since colonial times, and climate change in present times. In the 1750's, King George I of England claimed exclusive rights to the enormous Eastern white pines (Pinus Strobus) in the New England colonies, marking them for harvest to build ships for the Royal Navy. "The Pine Tree Riots" of 1772, a rebellion by New Hampshire settlers who also wanted access to the timber, was a precursor to the American Revolution. Pinus Strobus, a species that has been recorded at 450 years of age, is a preferred crop in monoculture forest plantations, typically harvested at 30 years growth.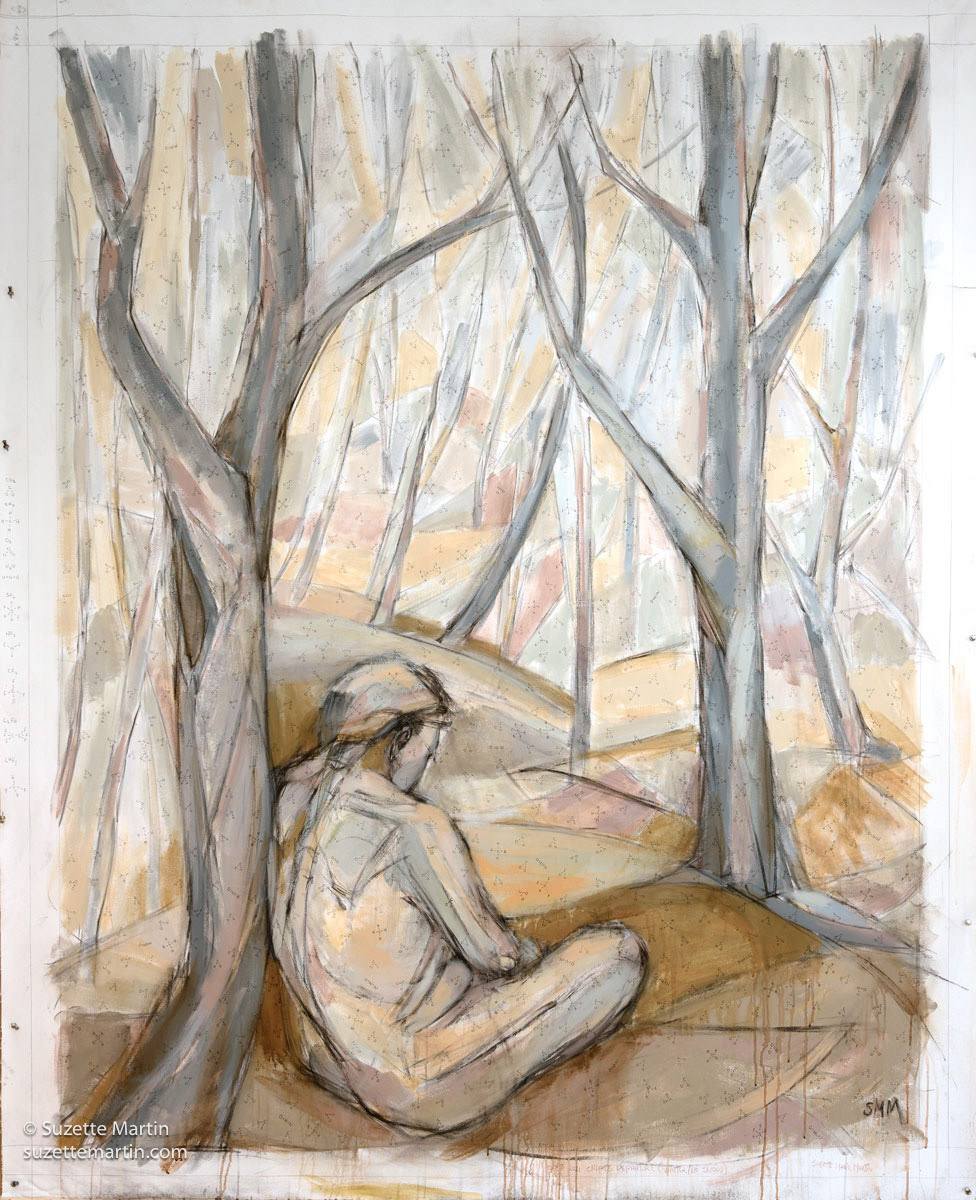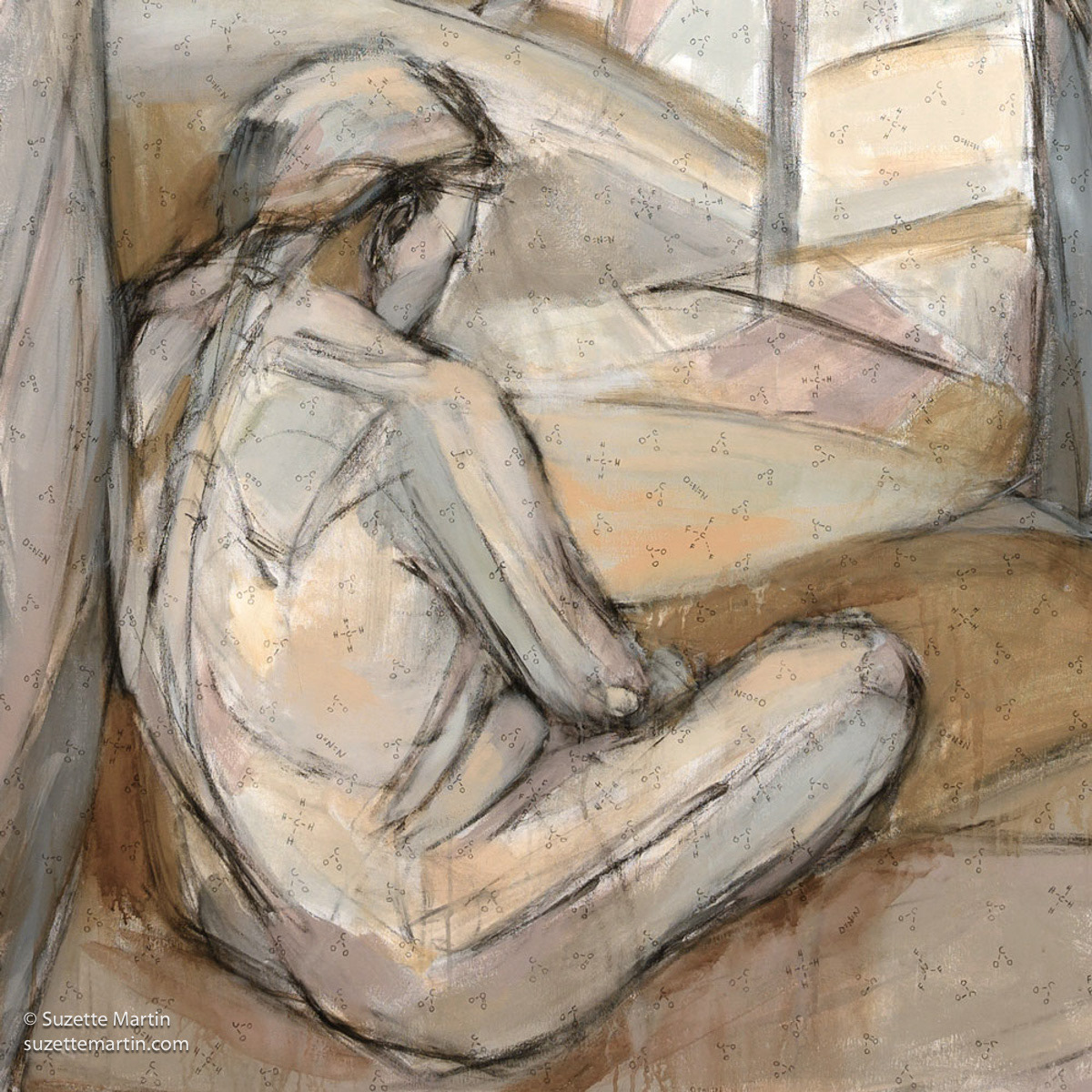 Dryad of Climate Departure (Winter, No Snow)

 Heat, drought, and loss of seasonal temperature fluctuations destroy trees, with cascading disappearance of the plants, animals and insects dependent on forest ecology. This Dryad sits in a gray and leafless deciduous forest, devoid of living creatures or snow cover.
"Climate departure" is the point at which the average temperature of a location's coldest year is projected to be warmer than the average temperature of its hottest year in the period 1860-2005.
"Using 1860 to 2005 as the historical period, this index has a global mean of 2069 (±18 years s.d.) for near-surface air temperature under an emissions stabilization scenario and 2047 (±14 years s.d.) under a 'business-as-usual' scenario."
source: "The Projected Timing of Climate Departure from Recent Variability". http://researchgate.net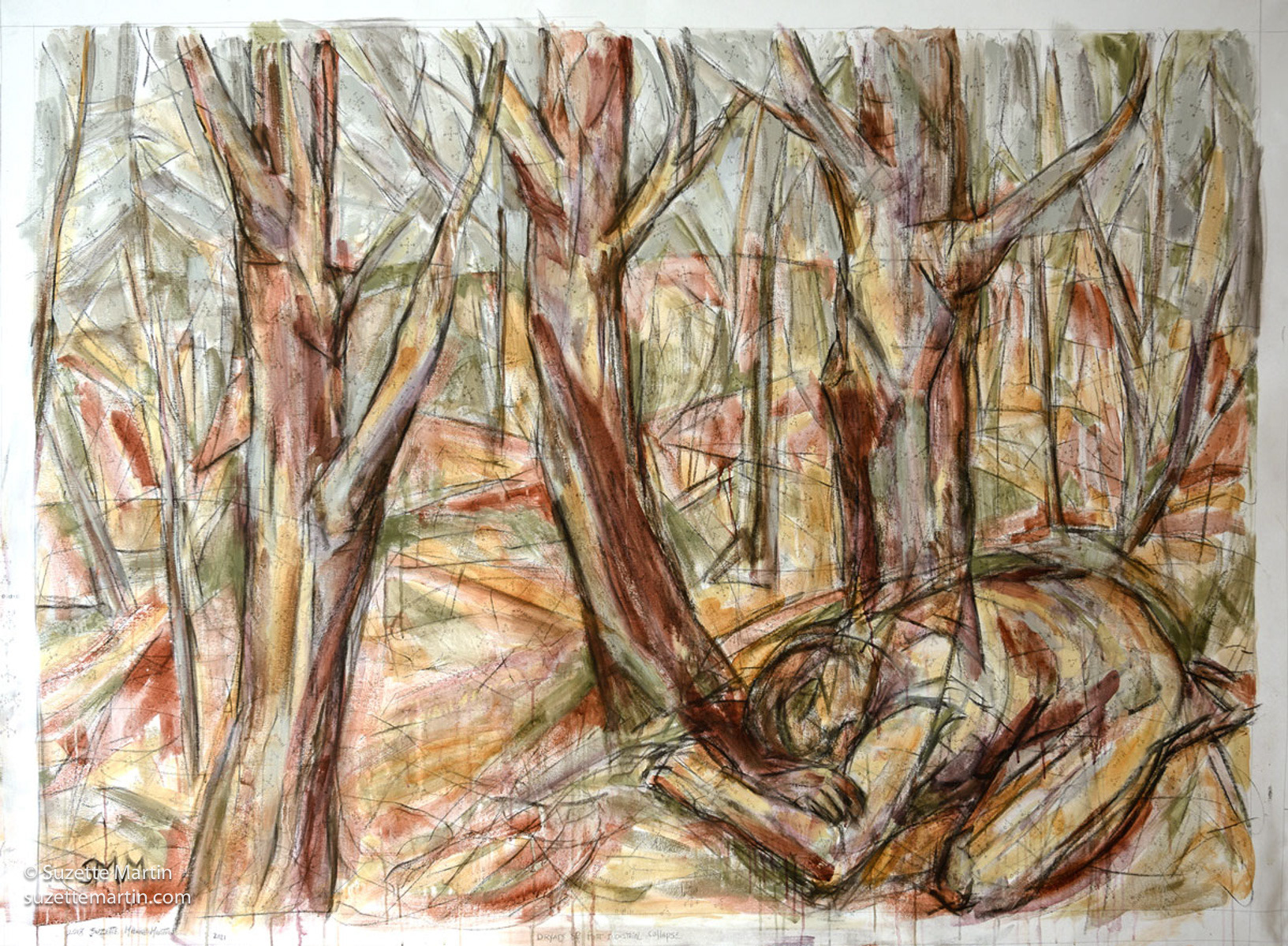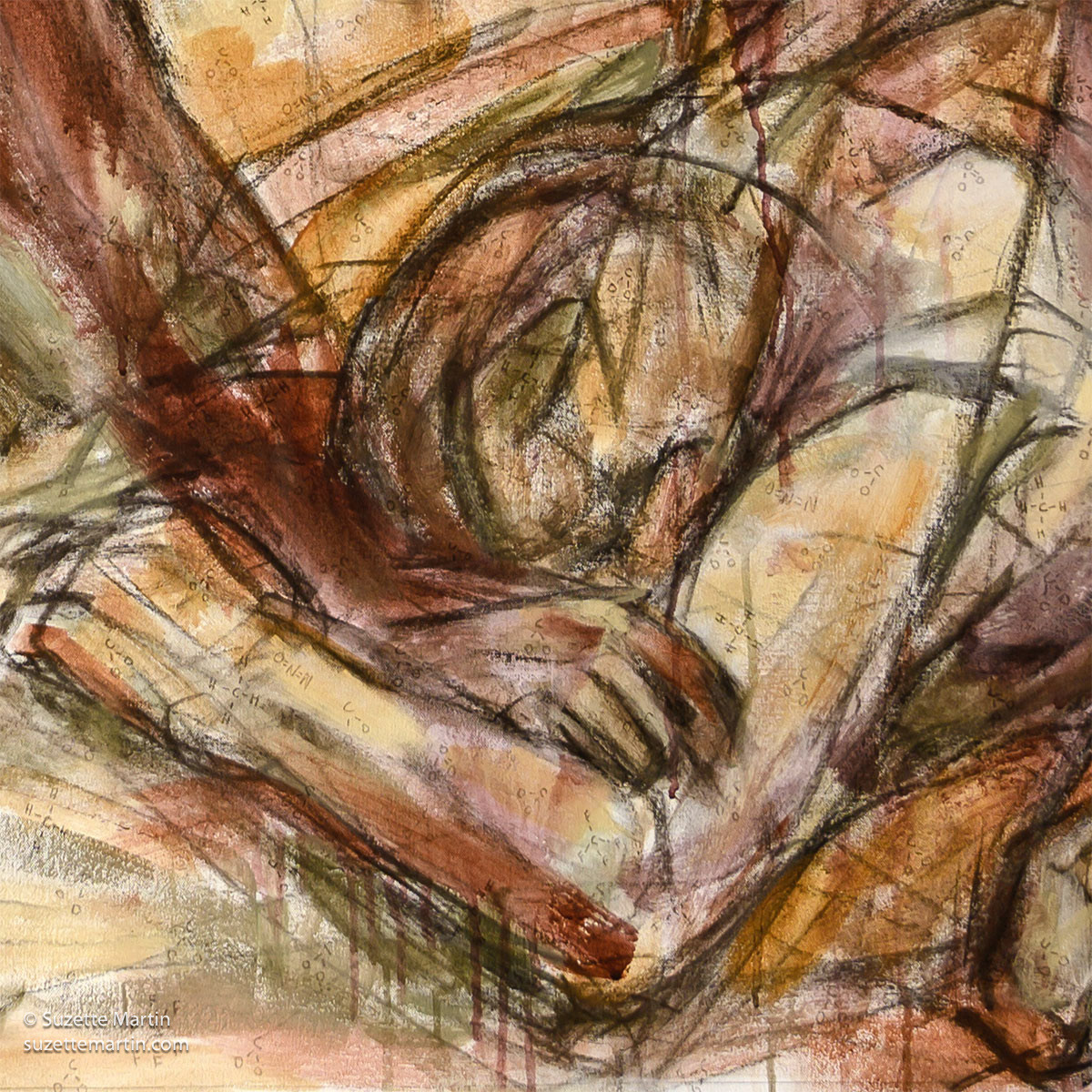 Dryad of Post-Industrial Collapse (New England) 

references not only the gesture of the figure, collapsed in sparse second-growth woodlands, but the collapsed economy of a region whose former fossil-fuel industrial base contributed to early escalation of greenhouse gas emissions, and left behind polluted mill towns, widespread poverty and addiction crises.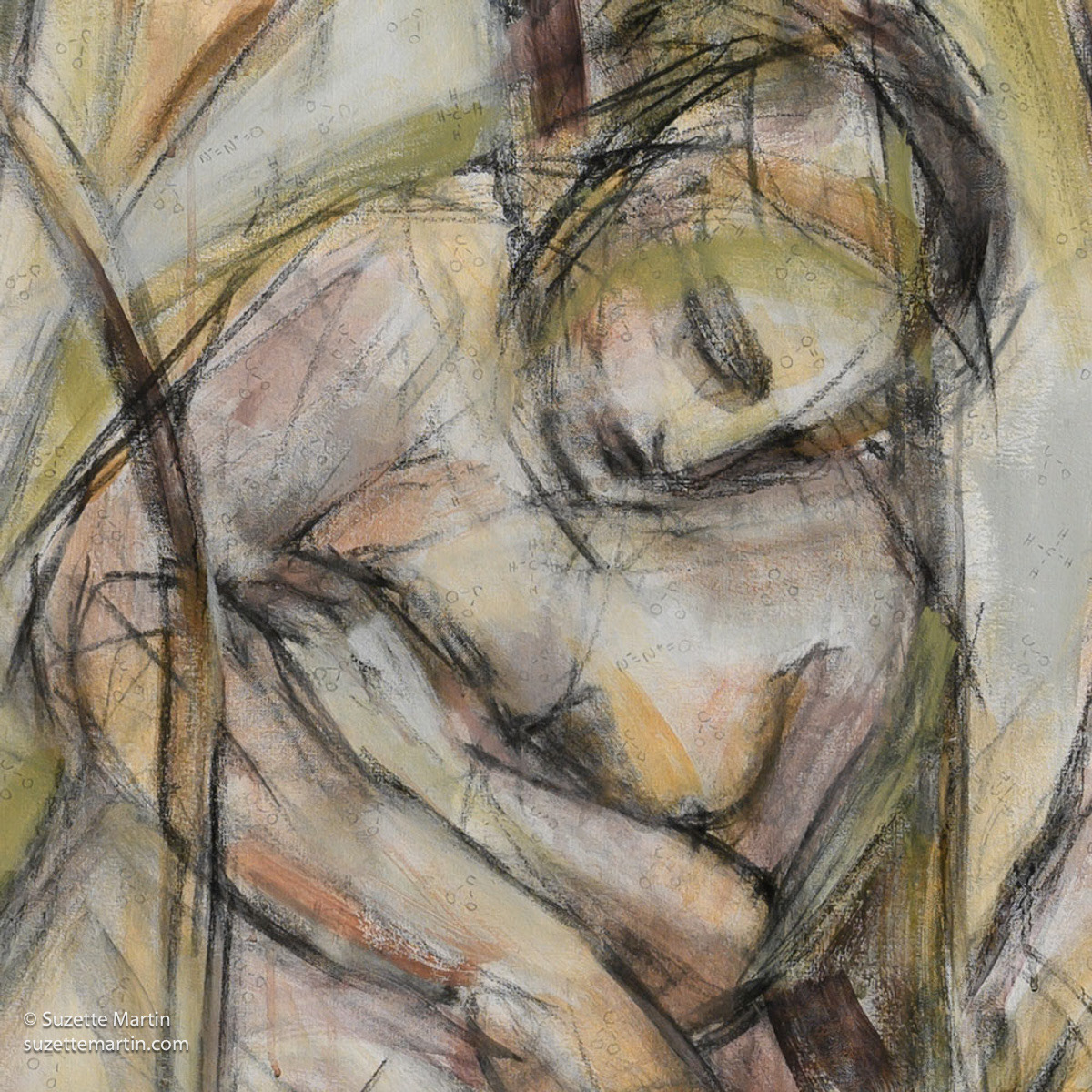 Requiem, Dryads of the Anthropocene
Dryads, the spiritual embodiment of trees, groves, woodlands and mountain forests in Ancient Greek mythology, were believed to die along with the trees they inhabited. This trio of dryads, engulfed in the molecular symbols of greenhouse gasses, stand watch over a compromised landscape they can neither bless nor protect.